How To Pass CCNA 200-301 Exam According To The New Syllabus ?
---
What is New CCNA 200-301 Exam? How To Pass Cisco 200-301 Exam?
The CCNA certification offers multiple careers and personal benefits for successful candidates. Having CCNA certification means that you have verified your skills, knowledge, and experience that is required to work on Cisco products and technology.
CCNA 200-301 exam replaces all current CCNA exams with a single exam that is effective February 24, 2020. The new Cisco CCNA 200-301 exam is 120 minutes and designed with significant changes to the curriculum. This new CCNA 200-301 exam will cover a wide range of security, networking, automation and programmability topics.
The new topics of Cisco 200-301 such as wireless LANs, dynamic Arp inspection, DHCP snooping, security architectures, overlay, underlay, fabric, DNA center, ansible, puppet, chef, JSON, structure data and REST are added in our CertificationGenie's
Cisco CCNA 200-301 exam questions
. So you rest assured that you will not miss any single question in the final Cisco 200-301 exam. It is guaranteed.
Cisco 200-301 Changes and Percentage in final Exam
If you an already preparing toward a current CCNA certification, make sure to complete it before Feb 23, 2020. Otherwise, you'll have to take the Cisco 200-301 exam that comes with the following changes.
| | | |
| --- | --- | --- |
| Current CCNA | CCNA 200-301 | Percentage in final exam |
| Network Fundamentals | Network Fundamentals | 20% |
| LAN Switching and Technologies | Network Access | 20% |
| Routing Technologies | IP Connectivity | 25% |
| Infrastructure Services | IP Services | 10% |
| Infrastructure Security | Security Fundamentals | 15% |
| Infrastructure Management | Automation and Programmability | 10% |
Get Success in Cisco 200-301 exam with CertificationGenies Practice Questions
If you have a plan to certify your skills and accelerate your career then the best way is to pass the Cisco 200-301 exam. To get success in Cisco CCNA exam is not an easy task, It is a challenging job. You have to make a strategy and prepare well before to sit in the final exam
We offer the simple, smart and swift way to pass this challenging and career promising Cisco 200-301 exam. We have the latest Cisco CCNA 200-301 exam PDF question and exam Practice Test Software that will ensure your success in the final Cisco CCNA 200-301 exam in the first attempt. CertificationGenie is committed to offering the latest Cisco 200-310 exam dumps that perfectly following the new changes of the Cisco CCNA 200-301 exam.
The Best Feature of CertificationGenie Cisco 200-301 Exam Dumps
Trust the best-selling CertificationGenie Cisco 200-301 exam dumps that help you to learn, prepare, and practice for Cisco Certified Network Associate exam success. CertificationGenie Cisco 200-301 exam questions are built with the objective of providing assessment, review, and practice to help ensure you are fully prepared for your certification exam.
Check out the best feature of our Prmiumdumps Cisco CCNA 200-301 exam dumps bundle pack.
Latest Cisco CCNA 200-301 exam PDF file and exam Practice Test Software
Valid Cisco 200-301 Exam Questions and Accurate Answers
100% Money-back Guaranteed Cisco 200-301 Exam Dumps
User-friendly Cisco 200-301 Exam PDF file and Practice Test Software
Free demo download and update facility
Take the decision and book your 200-301 exam dumps now and become a certified Cisco CCNA expert. Let's get started this journey with the CertificationGenie. Get everything that you need to learn, prepare and pass the Cisco 200-301 exam from a trusted platform. Good Luck.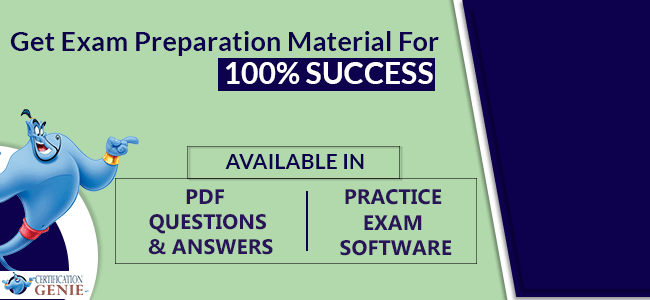 Download Demo
What People Are Saying
Unfortunately, I failed to pass the PPM-001 exam. The reason of my failure was invalid study material. Luckily I got updated exam questions of PPM-001 and the knowledge of this study material helped me to pass PPM-001 exam in the flying colors.
Nov 24, 2023
Harry
When I was getting prepared for my PPM-001 exam I was so annoyed. Then I found CertificationGenie. I logged in and saw lots of resources on it and used them to practice for my test. I pass it and I'm so grateful to CertificationGenie.
Nov 29, 2023
Ronny