Why CCNP Certification Becomes Essential For Network Engineer??
---
What is CCNP?
CCNP Certification is Cisco's professional-level achievement that stands for Cisco Certified Network Professional. Networking Professionals who choose this certification program are trained to troubleshoot, install, and maintain both wide area networks (WAN) and local area networks (LAN) for systems between 100 and 500 nodes. Cisco Certified Network Professional (CCNP) is regarded as an intermediate-level course by Cisco and with voice technology, it opens up the opportunities and possibilities associated with one's career.
Having a Cisco Certified Network Professional (CCNP) certification validates your ability to implement and troubleshoot both LAN and WAN networks. Along with, you will be known as a person who can collaborate with specialists on issues related to voice, wireless, advanced security, and video solutions. In this certification program, networking professionals and students also gain expertise in a wide range of network features and protocols, including Route Redistribution, Access Lists, Ethernet, AppleTalk, and many more. This is a professional level certification introduced by Cisco in VoIP technologies

Who can do CCNP Certification?
CCNP certification is suitable for those with at least one year of experience in networking. Individuals who obtain the certification are known to possess a precious skill set that is required in enterprise roles such as network engineer, systems engineer, support engineer, network technician, and more. You will need to get CCNA certified before attempting for CCNP certification.
In the old CCNP program, you needed to pass these exams:
642-821 BCRAN: Building Cisco Remote Access Networks

642-831 CIT: Internet Troubleshooting Support

642-801 BSCI: Building Scalable Cisco Internetworks

642-811 BCMSN: Building Cisco Multilayer Switched
Under the new program, you need to pass these exams instead:
642-825 ISCW: Implementing Secure Converged Wide Area Networks

642-845 ONT: Optimized Converged Cisco Networks

642-901 BSCI: Building Scalable Cisco Internetworks

642-812 BCMSN: Building Converged Cisco Multilayer Switched Networks

How can prepare for CCNP Certification?
Cisco's CCNP certification currently has 3 exams,
ROUTE: To study ROUTE exam is about EIGRP, OSPF, some routing "manipulation", BGP and IPv6. You already learned about EIGRP and OSPF and a little bit of IPv6 in CCNA so these should be familiar topics, you will learn (a lot) more about them, however. For example, in CCNA you learned about OSPF and its LSDB (Link State Database) but in CCNP you will take a close look at all the LSA types that fill the LSDB. You learned about IPv6 in CCNA but now you will also learn some migration and tunneling techniques so you can connect IPv6 networks over existing IPv4 networks. If you forgot about the difference between EIGRP/OSPF and things like "link state" vs. "distance vector" then please re-visit the CCNA material before you dive into ROUTE.

SWITCH: To study SWITCH at home you will need some real hardware switches. GNS3 can only emulate routers and the NM-16ESW switch module which doesn't support rapid spanning tree, multiple spanning-tree or the different ether channel protocols. You don't need expensive hardware, my recommendation is to buy 2x Cisco Catalyst 2950 switches and 1x Cisco Catalyst 3550 switch. For more information take a look at my CCNA hardware recommendation lesson. Most of it also applies for the CCNP SWITCH exam

TSHOOT: The TSHOOT exam is different compared to what you have seen so far. The ROUTE and SWITCH exams are similar to CCNA; you will get some multiple-choice questions, labs, click-all-that-apply questions, etc.
TSHOOT is different as the exam will present you with a (large) network topology that has a number of issues. You don't have to fix these issues but you have to be able to look at the configurations of the devices and answer what the problem is. If you want to pass this exam there are two things you will have to do:
Truly understand all the topics that you learned in CCNA, ROUTE and SWITCH.

Become familiar with the topology that Cisco uses in the TSHOOT exam.

Pass all 3 exams and you will be CCNP certified.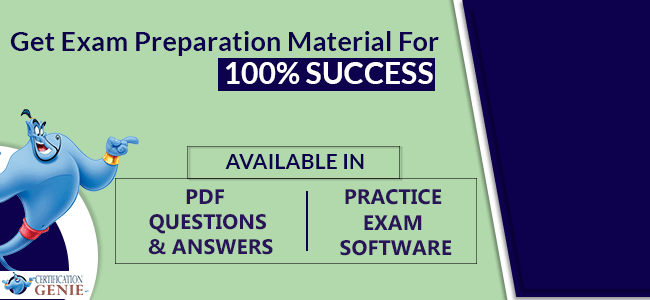 Download Demo
What People Are Saying
I logged on CertificationGenie while staying in my bed plus a world of studying materials was made accessible for me. Thank you for supporting me in clearing my GSuite exam.
Nov 15, 2023
Antonio
The usage of CertificationGenie actual questions proved very beneficial for me to pass the GSuite exam and to gain comprehensive knowledge about the GSuite exam. I feel that my expertise is enhanced by preparing CertificationGenie exam questions.
Nov 17, 2023
Jacob